Monday: Easy Chicken Enchiladas
recipe
here

via allrecipes.com
Tuesday: Fettuccine Alfredo
recipe
here
via kraftfoods.com
Wednesday: SUSHI night with my sister!
via yelp
Banquet Chicken Patty
Deli Sliced Ham
Swiss Cheese
Mayo
Mustard
This is a cheater cheater recipe, perfect for a busy weeknight.
Cook the chicken patty as described on the package. In the meantime, mix mayo and mustard, I am not sure the exact ratios. I usually use 2-3 Tbsp of Mayo and a squeeze of mustard to taste. Once the chicken is heated through top with sliced ham and swiss cheese. Put it back in the oven until the ham is warm and the cheese is melted. Use the mayo / mustard as a dip.
It is delicious just like this, but the hubby requested burgers, so I just put the mayo / mustard on a bun and it's a burger.
Friday: Filet Mignon with Rich Balsamic Glaze
recipe
here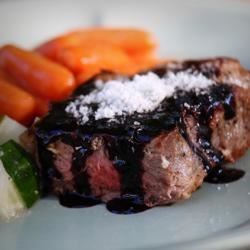 via allrecipes
Saturday: Happy Cinco de Mayo
via festevents.org
We are partying with the family today, so I am not making dinner! BUT I am making my favorite
Sangria
and
Ceviche
for the fiesta!
Sunday: Cheesy Hashbrown Casserole
recipe
here